Suhr and WildCat Guitars Present
An Evening with James Norbert Ivanyi and Andre Nieri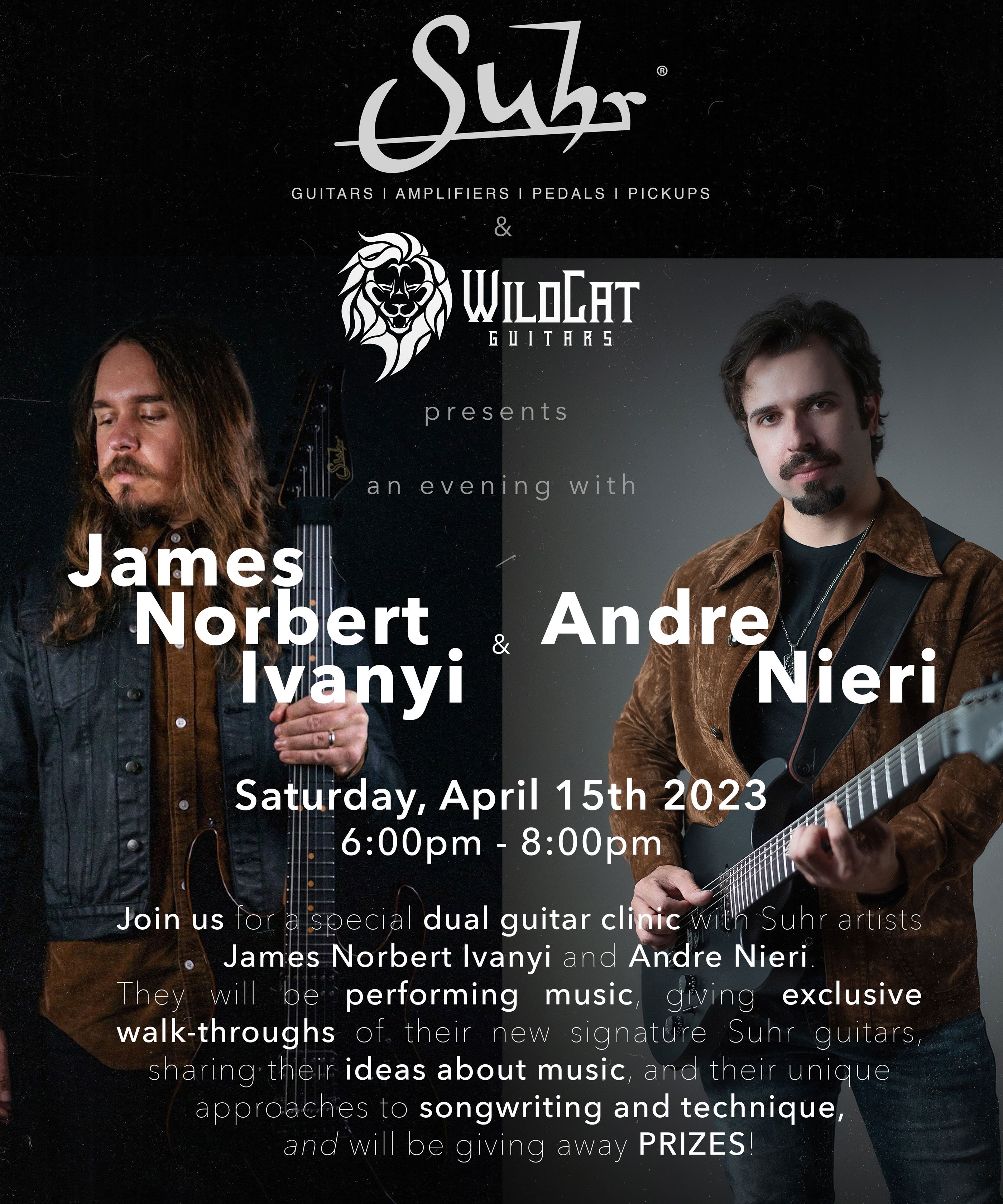 James Norbert Ivanyi

&

Andre Nieri
Saturday, April 15, 2023 at 6:00 PM
Join us for a special dual guitar clinic with Suhr artists James Norbert Ivanyi and Andre Nieri. They will be performing music, giving exclusive walk-throughs of their new signature Suhr guitars, sharing their ideas about music, and their unique approaches to songwriting and technique, and will be giving away PRIZES!
Andre Nieri
Andre is an electric/classical guitar player composer and instructor originally from Brazil where he graduated from Carlos de Campos Conservatory in Sao Paulo Brazil with a degree in Jazz and Brazilian Music. He works with a wide variety of musical style such as Rock Fusion Jazz Brazilian Music Latin Pop and Classical (Guitar). Andre has been a private guitar instructor for 15+ years and he has done many guitar clinics around the world (Spain, South Korea, Greece, Russia, USA, Italy, Brazil, Finland. In addition, he has instructional material released through Jam Track Central, he won the GUITAR IDOL 2014 competition in London, UK, and he has been featured on many guitar magazines such as Total Guitar (UK), Fusion Guitar Book (Japan), Guitar Interactive (UK), Guitar Load (Brazil). Andre currently holds the guitar chair in the band of legendary drum virtuoso Virgil Donati (Planet X, Steve Vai).
James Norbert Ivanyi
James Norbert Ivanyi is a progressive master-mind, hailing from Australia. It was there that he earned his degree from the Australian Institute Of Music and began crafting his signature sound. James has been using Suhr guitars for 11 years now to write and perform his incredible brand of genre-bending music. James has released many solo records that range in sound and genre, yet always take you on a journey over unexplored sonic and technical terrain.
Register for An Evening with James Norbert Ivanyi and Andre Nieri.
Registration is Free! Please include the number in your party.
.(JavaScript must be enabled to view this email address)
WildCat Guitars
2750 Auto Park Way Ste 21, Escondido, CA 92029